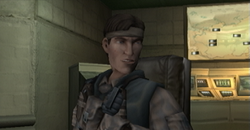 "I don't like this, sir." - William Robert 'Tex' Jackson
Tex is the WinterICE explosives expert.
Biography
Edit
Tex's wise-cracking attitude can often rub others up the wrong way, but the other squad members have discovered that this exterior belies the excellence and expertise of a true brother in arms.