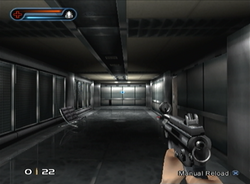 The compact Sub-Machine Gun (SMG) has a fast fire rate and high portability. It is commonly used by security forces instead of pistols when extra firepower is required. Excellently suited to short range combat, but is somewhat limited in accuracy and penetrating power at longer distances.
Ad blocker interference detected!
Wikia is a free-to-use site that makes money from advertising. We have a modified experience for viewers using ad blockers

Wikia is not accessible if you've made further modifications. Remove the custom ad blocker rule(s) and the page will load as expected.