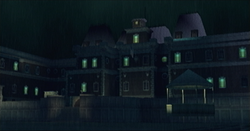 Penfold Asylum is an insane asylum in Rutland, Vermont.
It dates from the end of the nineteenth century, when an extensive programme of asylum construction swept the US as part of the 'moral commitment' to improving the treatment of the mentally ill. Hopelessly outdated by modern clinical standards, but somehow still in operation, it remains an imposing local landmark.
Ad blocker interference detected!
Wikia is a free-to-use site that makes money from advertising. We have a modified experience for viewers using ad blockers

Wikia is not accessible if you've made further modifications. Remove the custom ad blocker rule(s) and the page will load as expected.