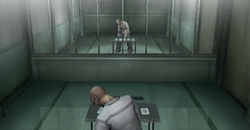 The Osiris Medical Facility is a high security military clinical research facility in Carlton, Virigina.
Information
Edit
Declassified areas of specialization are stem cell research, brain surgery, tissue transplantation and comparitive primate biology. Information on many areas of research is classified under federal security restrictions.
Ad blocker interference detected!
Wikia is a free-to-use site that makes money from advertising. We have a modified experience for viewers using ad blockers

Wikia is not accessible if you've made further modifications. Remove the custom ad blocker rule(s) and the page will load as expected.