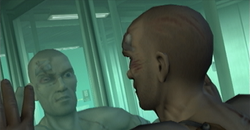 Experimentation is the third mission in Second Sight. It takes place in the Osiris Medical Facility on 5th October, 11:50 am.
Six months after joining the WinterICE mission, John Vattic finds himself imprisoned in a high security medical facility. He has been subjected to extensive surgery and trauma. As John escapes, he discovers that he possesses phenomenal psychic powers.
Objectives
Edit
Dr John Vattic: "WinterICE."
John: "Damn. WinterICE, Tyumen Oblast, classified? I don't get this? Jayne Wilde - killed in action? What the? John, Vattic..."
Ad blocker interference detected!
Wikia is a free-to-use site that makes money from advertising. We have a modified experience for viewers using ad blockers

Wikia is not accessible if you've made further modifications. Remove the custom ad blocker rule(s) and the page will load as expected.