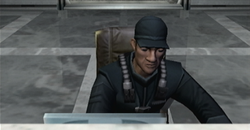 Conspiracy is the thirteenth mission in Second Sight. It takes place in the NSE Headquarters on 7th October, 9:00 pm.
Starke's evidence of a conspiracy has led John to the NSE Headquarters. What are they planning and how is it connected to the events at Dubrensk?
Objectives
Edit
NSE Guard: "Can I help you?"
Dr John Vattic: "I'm here to see Director Hanson."
Guard: "And you are?"
John: "John, John Vattic. I guess you've heard of me."
John: "I gotta get back to Dubrensk."
Ad blocker interference detected!
Wikia is a free-to-use site that makes money from advertising. We have a modified experience for viewers using ad blockers

Wikia is not accessible if you've made further modifications. Remove the custom ad blocker rule(s) and the page will load as expected.