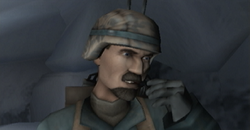 "Nothing, sir. Just interference." - Anthony Cortelli
Cortelli is the WinterICE communications officer.
Biography
Edit
Cortelli's ability to wring a signal out of even the most outdated comms lash-up has gained the team vital intelligence on earlier missions. It's reputed that he can take a full pack over the boot camp assault course faster than anyone else on the squad (Tex would of course argue the point).